To thank and appreciate users who have accompanied Horizon in 2022. Horizon Land brings lunar new year event running throughout the New Year season.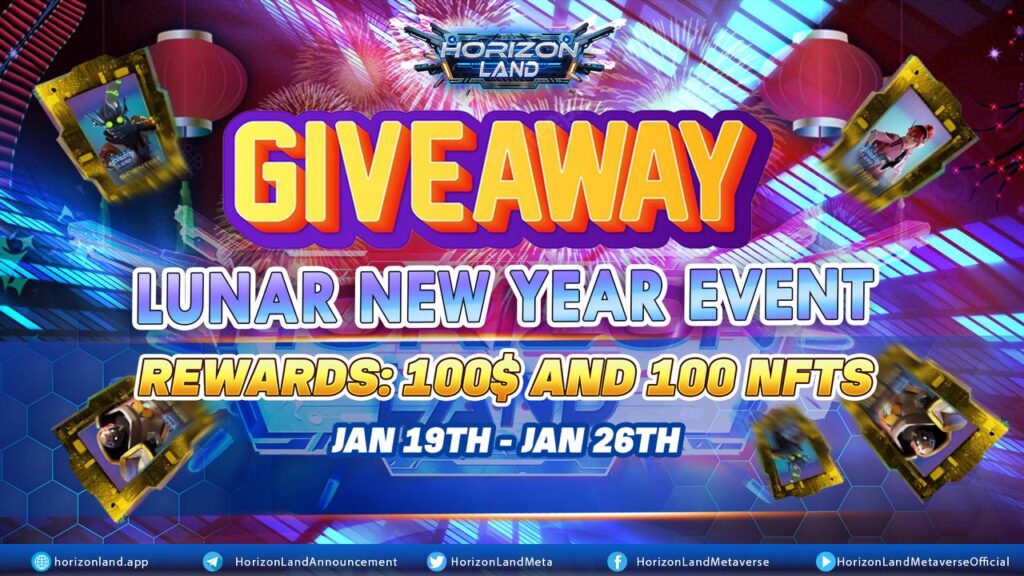 Duration: From January 19th, 2022 – January 26th, 2022
Who can join?
Open free for Everyone
How to join it?
Answer all the questions in 7 days to get rewards: https://horizonland.crew3.xyz/questboard
Follow the tasks' rule in Horizon Post in here: https://t.me/HorizonLandAnnouncement
Rewards
Top 1: 50 $BUSD & 1 NFT
Top 2: 30 $BUSD & 1 NFT
Top 3 – 5: 10 $BUSD & 1 NFT
Top 6 – 80: 1 NFT
About Horizon Land Metaverse
Horizon Land Metaverse is the immersive gaming Virtual World built on blockchain. We provide exquisite gaming experiences and means to help users monetize their ownership of virtual properties.
Our vision is to bring players a decentralized platform that facilitates authentic ownership, interoperability, and monetization capabilities. The new virtual world will also remove physical obstacles, enhance the user's living experience, and open many world-scale business opportunities to everyone.
By joining the Horizon Land metaverse, users are free to select any identity: a player, a landowner, a creator, or a partner with different involvement upon their interests and demands. They are given rights and tools to have their own territory, create their own assets (as NFTs), monetize their creativity, and utilize fascinating services under a transparent and reliable governance system. Through our decentralized mechanism, anyone can be part of the control also.
More about Horizon Land Metaverse: https://docs.horizonland.app/horizon-land/
========================
Follow Horizon Land: Website | Telegram | Twitter | Facebook | Youtube | Discord
Let's expand the Metaverse together: CONTACT US