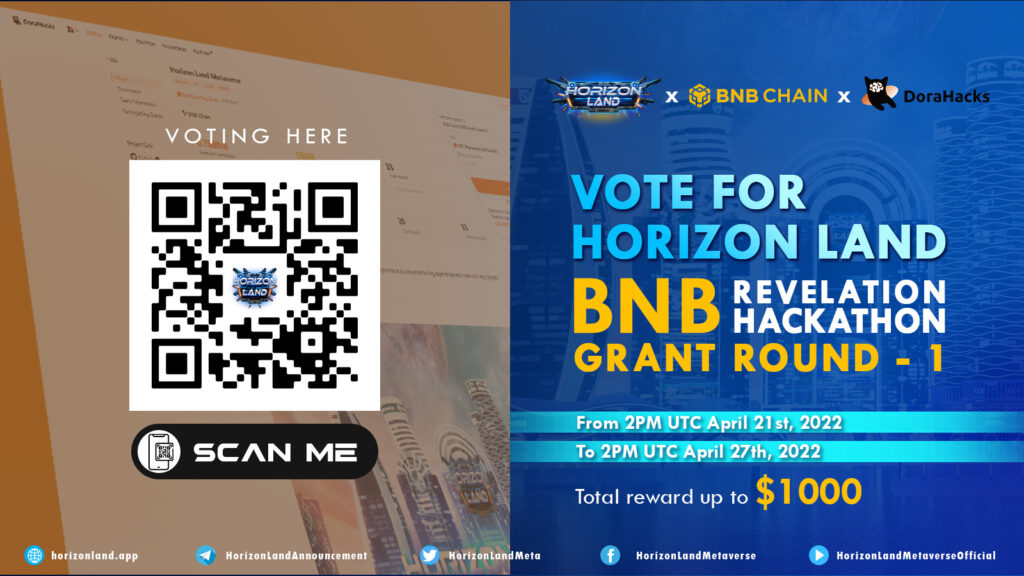 PARTICIPATE NOW AT 👉 https://gleam.io/competitions/OLSSX-event-vote-for-horizon-land-at-revelation-bnb-grant-r1-at-dorahacks
If this link isn't working, participate at https://gleam.io/competitions/7Ekxv-event-vote-for-horizon-land-at-revelation-bnb-grant-r1-at-dorahacks
Continue the series of Horizon events that connect the community and Horizon Land. This event is larger than all and involves two major blockchain projects BNB Chain and DoraHacks. A total reward is $1000 for the winners.
Vote For Horizon Land At BNB Chain event is a mission to bring more Metaverse values ​​to the community most broadly and deeply.
BNB Chain Revelation Hackathon is a campaign designed to push Crypto adoption forward and open more investing chances for users. This campaign also became a place summary projects from traditional crypto, Metaverse, to GameFi for more trust investment choices.
Today, at Horizon Event, have at least 1 VOTE FOR HORIZON LAND METAVERSE, participants can RECEIVE PRIZES UP TO $1000. Let's push Horizon Land Metaverse to go on the top winners and add more Metaverse values to communities with each vote.
What Is BNB Chain Revelation Hackathon?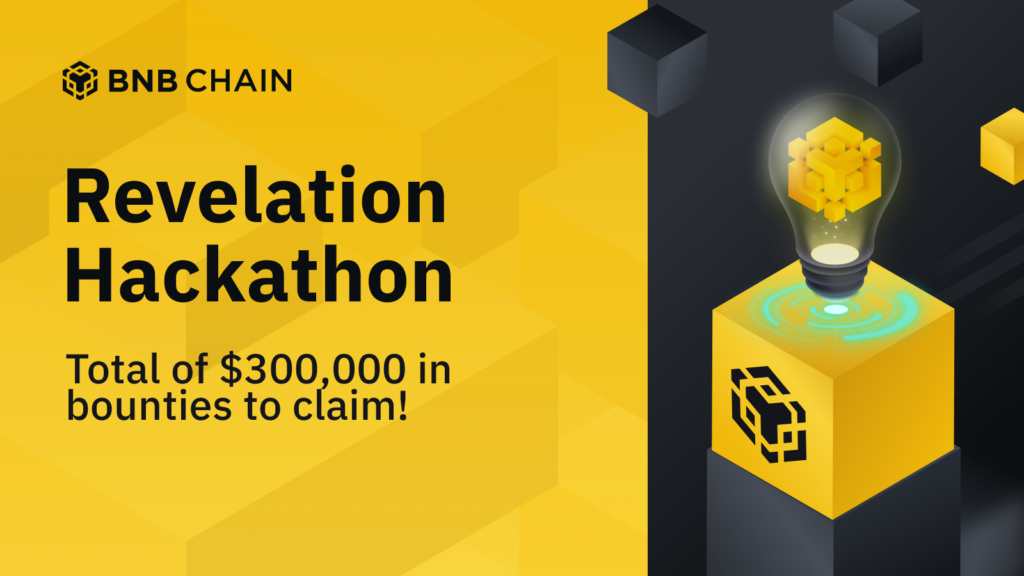 BNB Chain Revelation Hackathon, a 50-day event co-hosted by DoraHacks, is designed to bring the most creative and innovative builders together, tackle some of the most industry significant challenges, and focus on creating products that push crypto adoption forward. This exciting campaign kicked off on March 21, 2022.
The Hackathon offers $10 million in prizes and seed funding for the best competing teams.
Apart from $10 million in prizes and seed funding, the sponsors from BNB Grant DAO, including BNB Chain, Ankr, NodeReal, etc., offer bounties to seek problem-solvers for necessary but not urgent issues while giving a generous prize in return. There is a total of $300,000 in prizes.
Bounty is an excellent way for a project to seek help from developers all over the world, and it's a win-win situation since the solution provider would be rewarded with a generous prize and gain influence in the community.
2. What Is Horizon Event: Vote For Horizon Land At BNB Chain Revelation Hackathon?
Horizon Land's event is organized to airdrop to communities by our pleased. Vote for Horizon Land Metaverse at BNB Chain Revelation Hackathon, bring Horizon Land Metaverse to the top of the winners and give more power to bring crypto closer, bring the values of Metaverse and more earning opportunities to communities around the world together!
PARTICIPATE NOW AT 👉 https://gleam.io/competitions/OLSSX-event-vote-for-horizon-land-at-revelation-bnb-grant-r1-at-dorahacks
💵Total reward: $1000.
▪️$400 for 1 luckiest participant.
▪️$600 for top 5 participants who have the most number of vote times.
💰Format: Do all tasks at http://bit.ly/3jRtZty to vote for Horizon Land at BNB Revelation Hackathon.
⏰Time: 2PM UTC April 21st, 2022 -> 2PM UTC April 27th, 2022
Just have 1 VOTE, you can RECEIVE PRIZE UP TO $1000!
How To Participant In Horizon Land Event: Vote For Horizon Land At BNB Chain Revelation Hackathon?
Step 1: Click the gleam link 👉 https://gleam.io/competitions/OLSSX-event-vote-for-horizon-land-at-revelation-bnb-grant-r1-at-dorahacks
Step 2: Do all tasks in this link with the way for voting:
✅Use your device to scan the QR in our poster/join the link for voting here: https://dorahacks.io/buidl/2584
✅Click "Vote" to support and choose your wallet.
✅The Nth vote will cost N*0.01 BNB.
✅Click "Confirm" to finish.
Step 3: Check all tasks again then wait for the winner's announcement at Horizon Land Announcement Telegram
If you still can't finish, you can watch the video:
3. How to Get Prizes for Winning Horizon Event: Vote For Horizon Land At BNB Chain Revelation Hackathon?
You need to check the list of winners and the BSC scan that we attached to the winner's announcement post.
Then check in your wallet, wait a short time, and the reward will be transferred to your wallet.
If you have the correct information but still haven't received it, you can contact the telegram username @Lucas_ZON
4. About Horizon Land Metaverse
Horizon Land Metaverse is the immersive gaming Virtual World built on blockchain. We provide exquisite gaming experiences and means to help users monetize their ownership of virtual properties.
Our vision is to bring players a decentralized platform that facilitates authentic ownership, interoperability, and monetization capabilities. The new virtual world will also remove physical obstacles, enhance the user's living experience, and open many world-scale business opportunities to everyone.
By joining the Horizon Land metaverse, users are free to select any identity: a player, a landowner, a creator, or a partner with different involvement upon their interests and demands. They are given rights and tools to have their own territory, create their own assets (as NFTs), monetize their creativity, and utilize fascinating services under a transparent and reliable governance system. Through our decentralized mechanism, anyone can be part of the control also.
More about Horizon Land Metaverse: https://docs.horizonland.app/horizon-land/
===================
Horizon Land Metaverse:
Website | Telegram | Twitter | Facebook | Youtube | Discord
Contact Us: contact@horizonland.app