I. Overview
Crafting your ideal virtual worlds!
Welcome to the Horizon Land x Mar3 AI Art Contest! This is your chance to join AI enthusiasts from across the gaming world and showcase your skills while diving into the immersive spirit of the gaming universe. Get ready to unleash your creativity and be part of an exciting journey into the limitless possibilities of AI art!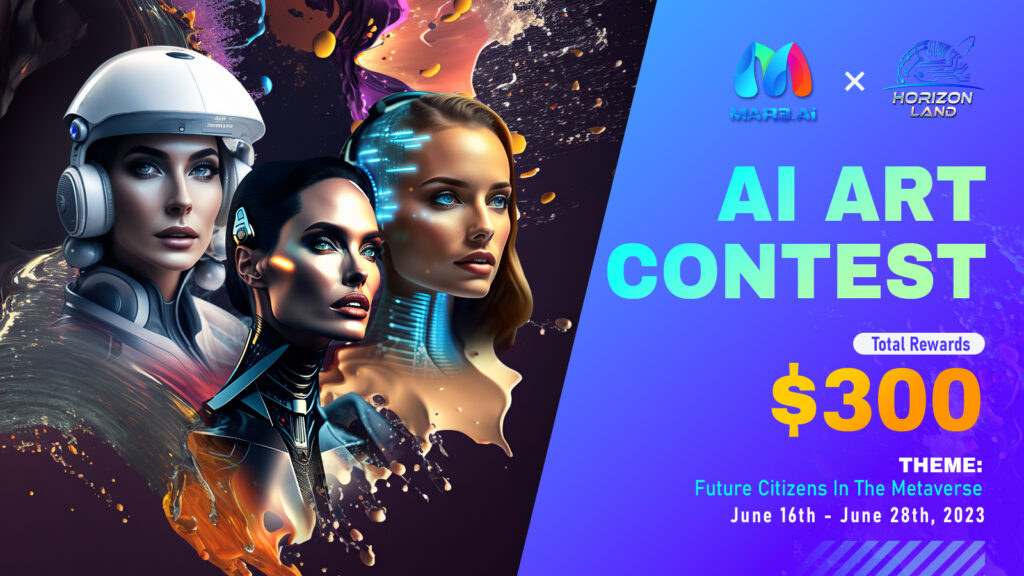 II. Details
1. Theme
"Future Citizens In The Metaverse"
We invite participants to envision and craft how they believe future citizens in the metaverse will look like. This exciting competition calls upon your creativity and AI skills to design unique, innovative, and awe-inspiring representations of the citizens who will inhabit the virtual worlds of the future.
2. Event Timeline:
The contest will take place from June 16th, 2023, at 09:00 AM UTC to June 23rd, 2023, at 11:59 PM UTC.
During this period, participants are invited to submit their artworks generated using the Mar3 AI Image Generate tool. To enter the contest, simply reply to the designated tweet on the Horizon Land Twitter account with your artwork.
3.Submitting Artwork:
To submit your artwork for the Horizon Land AI Art Contest, follow these steps:
Connect your wallet and obtain your unique Mar3 ID.
Visit the Mar3 AI Image Generate tool at https://beta.mar3.ai/app/image-generate.
Use the AI Image Generate tool to create stunning artworks based on your preferences and imagination.
Once you are satisfied with your artwork, mint it as an NFT to prove your ownership.
Reply to the Horizon Land contest tweet with your generated artwork, ensuring that you include the hashtags #HorizonLand #Mar3AI #AIArtContest.
Additionally, make sure to follow Horizon Land and Mar3 on Twitter, like the contest tweet, retweet it, and tag three friends to increase your engagement.
4. Voting Process:
The selection process for the Horizon Land AI Art Contest consists of two stages: Top 15 and Top 5.
Top 15:
Timeline: from June 16th to June 23rd
Participants must gather interactions for their artworks. The top 15 artworks with the highest number of interactions will advance to the next stage.
1 Like = 1 Point
1 Reply = 1 Point
1 Retweet = 1 Point
The top 15 artists will be announced on June 26th, 2023.
Top 5:
After the Top 15 artworks have been determined, our expert team will evaluate each piece based on criteria such as innovation, authenticity, and creativity. The team will carefully select the Top 5 artworks from the initial 15, considering their artistic merit and unique qualities.
5. Event Rewards:
The Horizon Land AI Art Contest offers a variety of rewards for participants and winners:
Final results will be declared on June 28th, 2023.
Array of Rewards: Each winner will receive USDT worth $320 and an exclusive NFT.
1st Place: $100 + NFT
2nd Place: $80 + NFT
3rd Place: $50 + NFT
Best Art by Community: $10 + NFT
Creative Art by Judges: $10 + NFT
5 lucky voters who complete all the Galxe Campaign quests will receive a reward of $50.
III. Conclusion:
The Horizon Land AI Art Contest is an incredible opportunity for artists to explore their creativity and showcase their talent. By leveraging the Mar3 AI Image Generate tool, participants can generate unique and captivating artworks. Remember to follow the event timeline, submit your artwork with the appropriate hashtags, and engage with the community to increase your chances of winning. We wish you the best of luck and look forward to seeing your extraordinary creations!