Continuing the event series before IDO, Horizon Land are pleased to pronounce the next AIRDROP EVENT: "TRY FILTER"!
What Are AR Filters?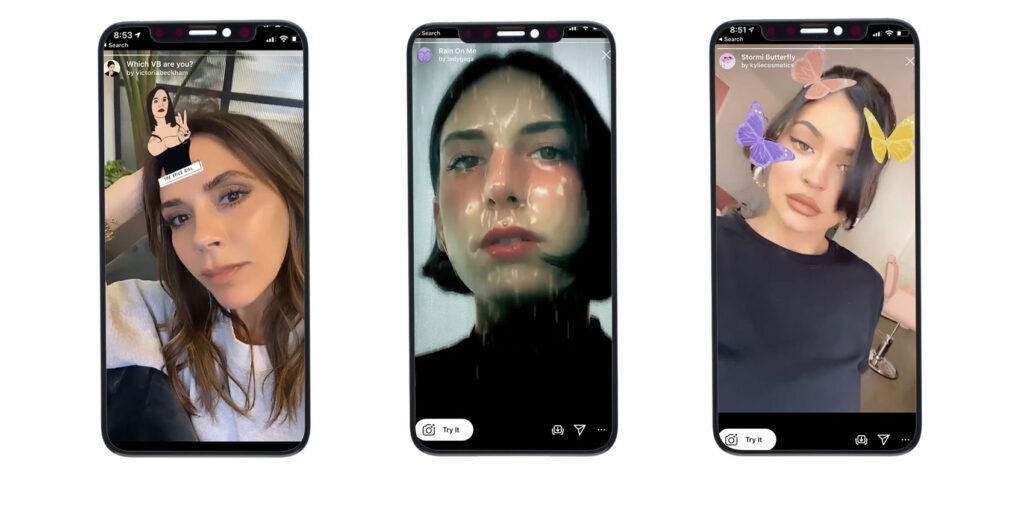 AR (Augmented reality) filters are technology-generated effects that are designed to be placed on real-life images. AR filters operate with your camera to add a layer of imagery such as attach icons, items, filter…in front of, around the face or background behind
There's a good chance you've come into contact with an AR filter in one way or another on Instagram, Facebook, or the different social media
Since the introduction of Instagram AR filters in 2017, no one has been able to design their own until recently. Horizon Land has been creating our filter on Facebook, TikTok, and all the platforms
Horizon Airdrop Event: "TRY FILTER"!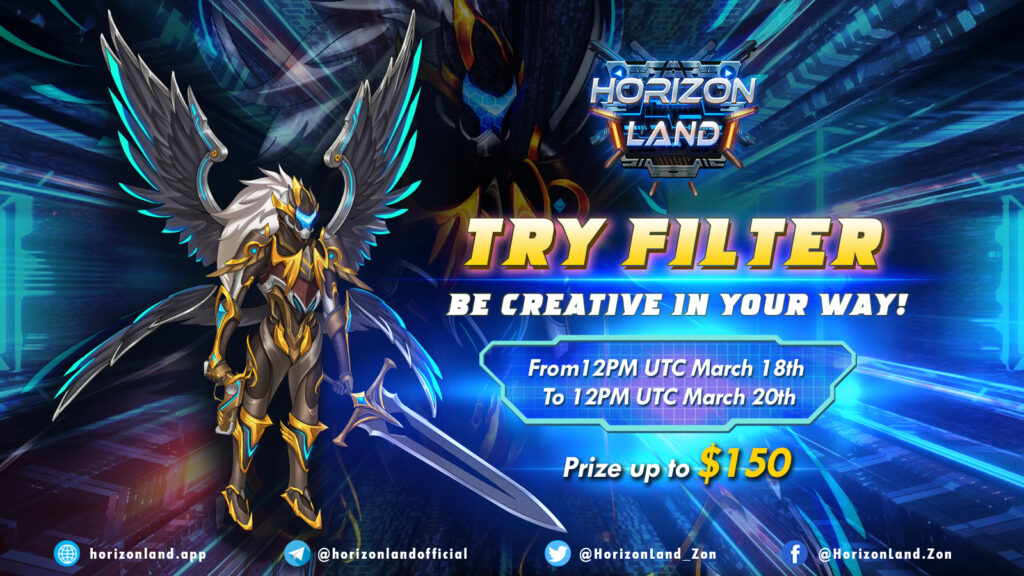 Each Hero in Horizon Land has an exclusive look with its own colors, weapons, style, and facial expressions.
Since then, Horizon Land has decided to implement and introduce to all members our New Filter AR with the name: Wings – Horizon Land
Inspired by the unique wings of the character Blackwing Archer, who has iron wings are mixed with two mysterious gray-blue colors. Show up the high damage combined with powerful spreading, it will elevate anyone who owns
Filter's AR system will recognize your face smile, those wings will appear, along with the Horizon Land icon and the planet spinning around your face. You will completely transform into Blackwing Archer!!
Just send your beautiful smile and exchange for the wings of the Devine.
Rules Of Try Filter Event
💵Price: $150 total prize pool for the 3 luckiest possible players
👉Format: Try our filter and post a video with the filter on Facebook or Twitter, or Telegram
⏰Time: From 12PM UTC March 18th, 2022 —>To 12PM UTC March 20th, 2022
JOIN EVENT: https://gleam.io/competitions/40bXZ-minigame-try-filter

TRY FILTER IN: https://www.facebook.com/fbcameraeffects/tryit/1531240243926223/
Tasks are needed to complete in gleam:
✅ Follow Twitter.
✅ Tag 3 friends in a tweet.
✅ Retweet public with the hashtag #HorizonLand #Horiziend #event #TryFilter #metafi.
✅ Like Fanpage.
✅ Follow Fanpage.
✅ Join Telegram
✅ Post video on Facebook with the filter with hashtag #HorizonLand #Horiziend #event
BIG AR CAMPAIGN IN HORIZON LAND
BIG AR CAMPAG IN METAVERSE" campaign will be operated close to IDO day of Horizon. Players can experience a lot of different filters from many of Horizon's characters. It has big rewards, exciting experience, and connect to whitelist and box sales in Horizon
IDO information will be announced soon, stay tuned for the next surprises. In the meantime, let's hunt from the Airdrop Event: "TRY FILTER"!
===================
Horizon Land Media:
Website | Telegram | Twitter | Facebook | Youtube | Github | TikTok
Contact Us: contact@horizonland.app