Join us today as we celebrate our latest event – Happy Sweet Valentine!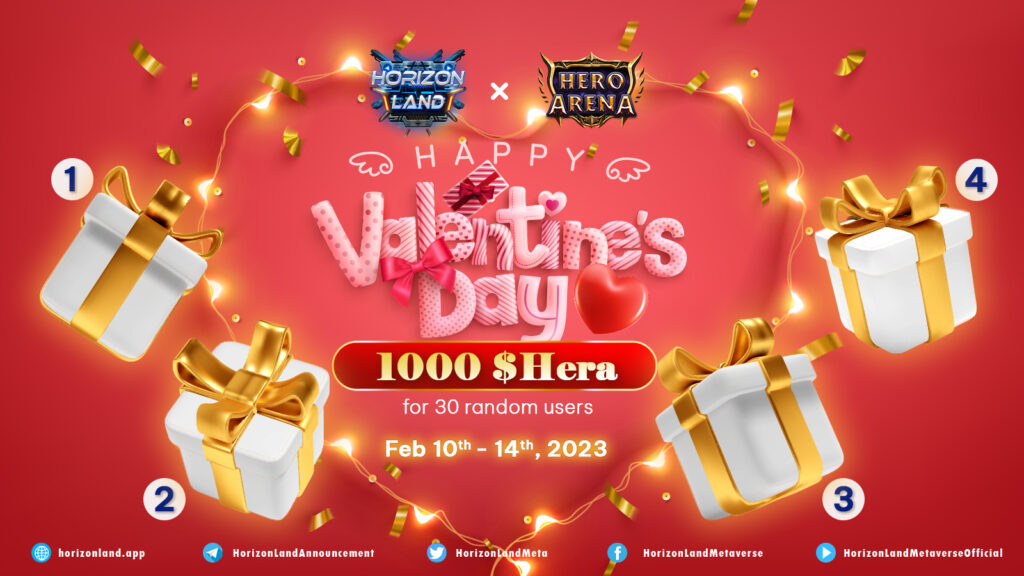 All around the world gifts and romantic letters are exchanged between loved ones on February 14. The origin of Valentine's Day can be traced all the way back to the 14th century when a famous English poet was the first to celebrate St. Valentine's Day as a day of love through romantic poems. Shortly after real-life lovers began to send each other love poems on February 14th.
"Roses are red,

violets are blue,

Let's get together

and make dreams come true."
Are you ready for fun this Valentine's Day? We have some sweet "socola" in store for you! Read on for more details!
To Enter Happy Valentine Event
Rule: There are 4 boxes included love message and chocolate items. Users leave your comment with your choose your box. The winners will random bases on the box that included chocolate items.
Time: From 10th Febuary 2023 To 12:00 PM (UTC) 14th Febuary 2023
Top 30 random receive 1000 $Hera who have chosen the right box.
Box Result Annoucement will be posted on 1:00 PM (UTC) 14th Febuary 2023
Play the game here:
Notice: 1 comment only for 1 user. The delete and edited comment will be not accepted.
About Horizon Land Metaverse
Horizon Land Metaverse is the immersive gaming Virtual World built on blockchain. We provide exquisite gaming experiences and means to help users monetize their ownership of virtual properties.
Our vision is to bring players a decentralized platform that facilitates authentic ownership, interoperability, and monetization capabilities. The new virtual world will also remove physical obstacles, enhance the user's living experience, and open many world-scale business opportunities to everyone.
By joining the Horizon Land metaverse, users are free to select any identity: a player, a landowner, a creator, or a partner with different involvement upon their interests and demands. They are given rights and tools to have their own territory, create their own assets (as NFTs), monetize their creativity, and utilize fascinating services under a transparent and reliable governance system. Through our decentralized mechanism, anyone can be part of the control also.
More about Horizon Land Metaverse: https://docs.horizonland.app/horizon-land/
========================
Follow Horizon Land: Website | Telegram | Twitter | Facebook | Youtube | Discord
Let's expand the Metaverse together: CONTACT US