I. Overview
Welcome to Horizon Blockchain Academy, your ultimate destination for cutting-edge blockchain education! As a non-profit organization, we are driven by the passion to empower users, students, and web builders with the knowledge and skills needed to harness the potential of blockchain technology. Our pioneering environment offers hands-on experience, allowing learners to stay ahead of the rapidly evolving blockchain landscape.
Join us in this exciting journey towards revolutionizing industries and embracing the Web3 world step by step.
II. Details
Our virtual blockchain bootcamp offers a wide range of activities, from short training courses, AMA, panel discussion, and career fairs, game nights, giveaways… for both technical and non-technical
1 Builder Podcast & Panel Discussion
The overwhelming positive response and engagement from our audience in Builder Talks Season 1 have motivated us to take this initiative even further. We are excited to share that due to the immense popularity, we have decided to launch Builder Talks Season 2 with even more new and dynamic speakers, along with a more intensive program.
Prepare to be inspired by our stellar lineup of speakers who come from renowned projects in their respective fields. We can't wait to continue this journey and provide our viewers with valuable content in the upcoming season.
The first episode of Builder Talks Season 2 will be on air on Horizon Land Youtube at 9:00 AM UTC on August 3rd, 2023. Wait for our first but not less interesting with the rewards pool worth of $200 for the Mini-Game after the talk.
Join our Builder Talks Season 2: https://shorturl.at/cGKMN
2. Blockchain Intensive Courses
With significant support from Binance and Horizon Land, the course program will help people who are new to blockchain or those who are already familiar with it gain insights and in-depth knowledge about the Blockchain industry.
The course will be divided into two levels:
Level 1 will cover the most fundamental and general knowledge about blockchain. This course is suitable for those who have never been exposed to blockchain technology or who want to learn about blockchain and its applications.
Level 2 is for those who already know about this technology or have encountered blockchain knowledge. The lesson content in this second course will be more academic and specialized in blockchain, which will be very suitable for those who intend to build Dapps or other blockchain-related projects.
Register right here to join our course and start your first step into Web3 World: https://forms.gle/pHUwNX21JdMA4Aj17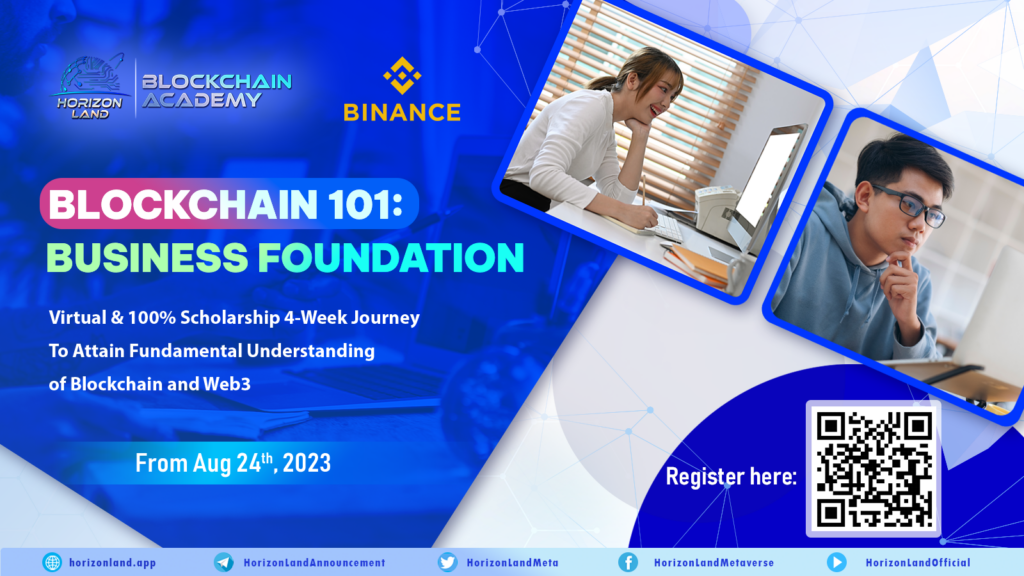 3 Game nights
Our community loves Game Night! This exciting event will allow participants to enjoy the graphics of items from our partners, such as Metlacore, Gods Unchained, and Illuvium,.. It will be a night full of surprises and will help bring everyone together.
Here's what you can expect:
Play games with your friends and community members.
Learn about new blockchain games and projects.
Win prizes from our partners.
Horizon Blockchain Academy is excited to welcome you to Game Night!
3.4 Meet up
A chance for us to meet, exchange ideas, and party with our participating communities. This is a great opportunity to connect with people who share your passion for blockchain technology, expand your network, and find new opportunities.
Stay tuned for our upcoming update!
III. Conclusion
The world today is developing more and more with the development of information technology. Blockchain technology is one of the most important and growing technologies in the world, but it can be difficult to learn about. That's why Horizon Blockchain Academy was born. We are pioneers in helping people learn, understand, and apply blockchain technology in business and life. We believe that sharing knowledge and building a community to grow together is the best way to help this technology spread to more people.
Together, we can make blockchain technology accessible to everyone. Don't miss our earliest information on this bootcamp event