Metaverse joined the new race in the future technology world connecting people over the world, built on the digital platform with ideas from real life. It is the next generation market – web 3.0. Horizon Land Metaverse is the immersive Virtual World built on blockchain providing exquisite entertaining experiences and monetizing player's ownership of virtual properties.
After the building rush time and receiving many community expectations, BETA VERSION of Horizon Land Metaverse is finally going to launch this August. users not only as residents, do anything wanting, earn, live, do business but also have a traditionally meaning experience and freely express insight self.
I. BETA VERSION OF HORIZON LAND METAVERSE
Explore Beta Version 👉 https://meta.horizonland.app/

Beta Version is the first version of Horizon Land Metaverse with each feature and experience through various centers. Beta Version will launch this August. Users can start choosing a unique hero avatar, then running to:
1. Game Center
There have hundreds of games hotting on market, just need to run to Game Center, all will be opened. Particularly, users can receive secret gifts, scholarships, free NFTs & items or get ZON when playing any games here. All are based on the user's frequency of access.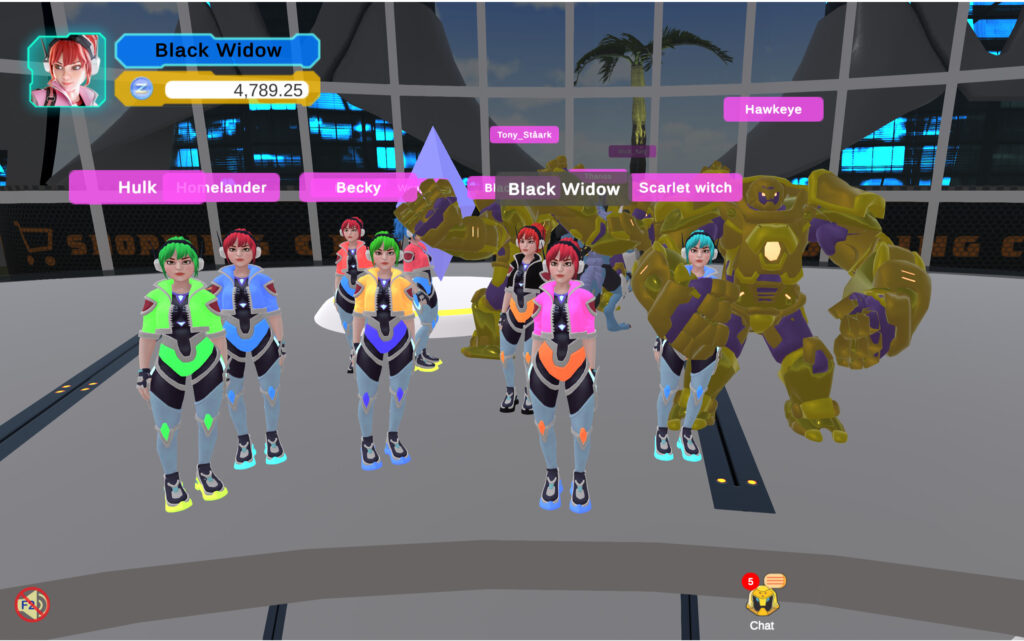 2. Virtual Reality University
VR school is the long-term campaign and special of Horizon Land which almost other metaverse projects haven't integrated. Within this Beta version, Horizon Land Metaverse built University of Greenwich in virtual reality blueprint and will also organize workshops, seminars, minigames, or its events…for students
3. Square
Here is the main place for organizing social activities, dance parties, big events, festivals merged airdrop for all users. Other centers will launch after Beta Version such as Finance center, Shopping Center, Music Center…
II. COLLECT ZON IN BETA VERSION – GET BUSD & NFTs FROM ZON REWARD POOL
In this Beta Version of Horizon Land Metaverse, users can pick up ZON anywhere and aren't limited then can jump into ZON Reward Pool
TIME: AUGUST

ZON Reward pool includes:

🥇1st place: 350$ + 1 NFT Legendary Hero Arena

🥈2nd place: 200$ + 1 NFT Elite Hero Arena

🥉3rd place: 100$ + 1 NFT Rare Hero Arena

🏅4th to 10th place: 50$ + 1 NFT Common Hero Arena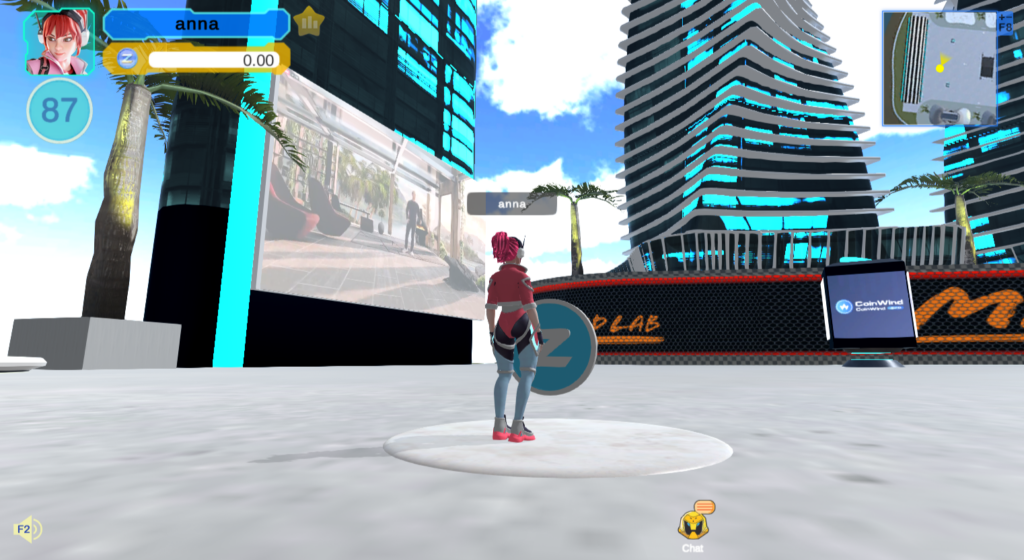 💵Time & Conditions
100 ZON appeared 1 time per hour. If not pick up before end, all ZON will be reset.
Chart Ranking appeared 1 time/ hour (1 ZON – 1 point)
Must login by wallet.
Top users winning ZON Reward Pool are decided by comparing all chart rankings.
Reward pool will be awarded after Beta Version Ending.
The prize will be gave to top players who have the highest and fastest number of ZON collected.
JOIN BETA VERSION NOW: https://meta.horizonland.app/
III. [Beta Version Launching] WEEKLY GIVEAWAY SERIES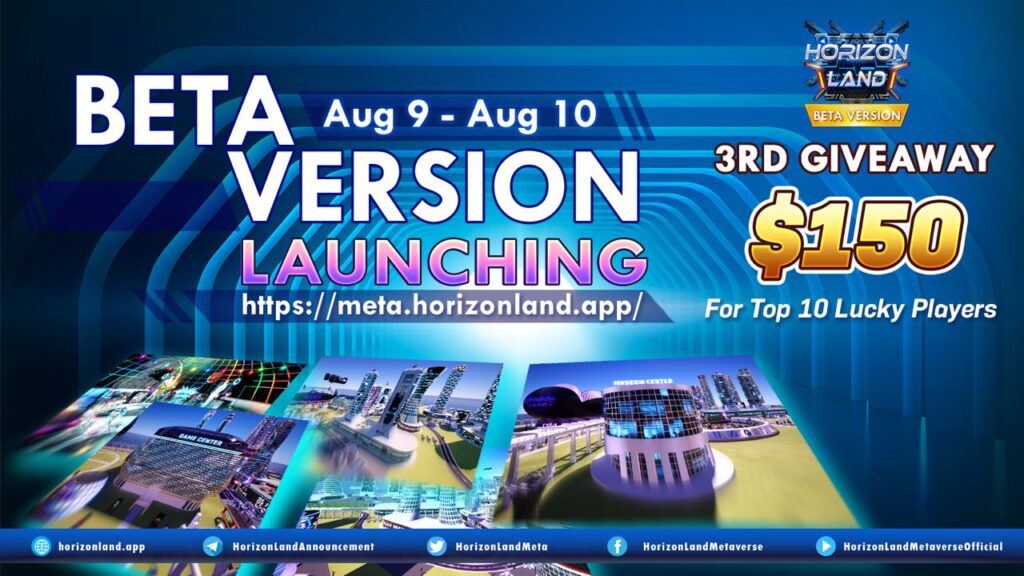 Companion with this will be the GIVEAWAY SERIES to get dollars, experience metaverse and hunt gifts directly within it.
Giveaways:
⏰TIME: Until Aug 31
💵Rewards: $100 for participants luckily.
Rules:
1️⃣ Do all tasks in the announcement: https://twitter.com/HorizonLandMeta
2️⃣ Log in to Beta Version by your wallet: meta.horizonland.app

JOIN NOW to not miss any winning chances of our Beta Version!
IV. About Horizon Land Metaverse

The Horizon Land metaverse is a mysterious area, including three continents and one archipelago. Horizon Land Metaverse is an immersive virtual world, a complete ecosystem built on blockchain. We provide exquisite entertaining experience and means to help players monetize their ownership of virtual properties. Users can use their land for their purposes, lend them out, or trade them for benefits.
As an owner of LANDS, users can build on, decorate, rent out, or trade their LAND. The better place your LANDS are in the metaverse, the more valuable your LANDS will be. A Landowner will also become creators who are able to create and monetize new assets (NFTs) and gameplays.
Construction of public works in Horizon's public areas includes museums, central parks, and squares. Details:
Public works: museum, finance center, …
Public events: exhibitions, entertainments, …
Transportations: Cars, buses, …
Gaming events: arenas, game launches, etc.
Ticket box
VR Mode
SUMMARY
Beta Version is the basic simulation session Horizon Land Metaverse through website. We built features into each center accommodating with partners to taking place events, broadening areas and coming to launch PC version which can optimize performance, experience. All activities, events, giveaways, minigames,… in this beta will end in AUG, hope all users have the best experience.
=======================
Horizon Land Media: Website | Telegram | Twitter | Facebook | Youtube | Discord
Contact Us: contact@horizonland.app