Recently, the concept of Metaverse is a very hot topic on technology and business forums, promising to be accessible on all different platforms, VR, AR, as well as PC or both mobile devices and game consoles. Horizon Land is no exception, with the mission of providing an immersive experience space based, bringing metaverse to mass adoption.
Horizon Land was born for the purpose of supporting multi-dimensional learning and integration to bring the most convenient virtual reality space to users.
Thanks to the love from users and the support from sponsors, Horizon Land together with the Christmas & Lunar New Year event was a success beyond expectations. With the following achievements:
CHRISTMAS & NEW YEAR EVENT
– 11.000 PARTICIPANTS – $5000 REWARDS: NFTs, TOKENs, USDT
– CONTEST, NFT EXHIBITION, GIVEAWAYS, WORKSHOP, BOOTH
– Sponsor: Gods Unchained, Ethlas, X World Games, Hero Arena, PlaceWar, Galaxy Arena, OKC, Thinkin, Van Lang University, GaFin.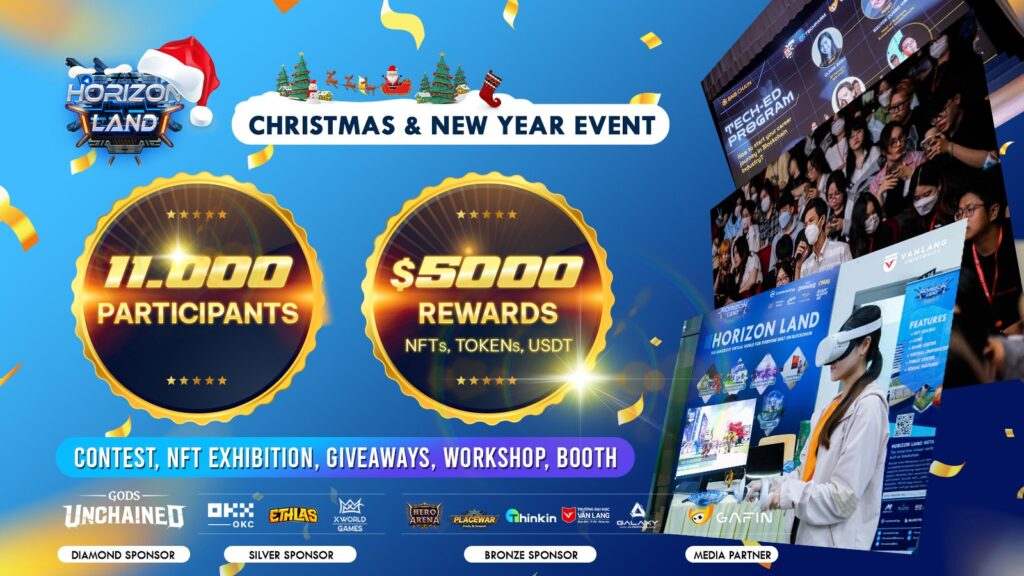 COLLECT CHRISTMAS ITEMS CONTEST
More than 5.532 PARTICIPANTS
TOP PLAYERS: Deva salsa Nabila, Solious, Dcao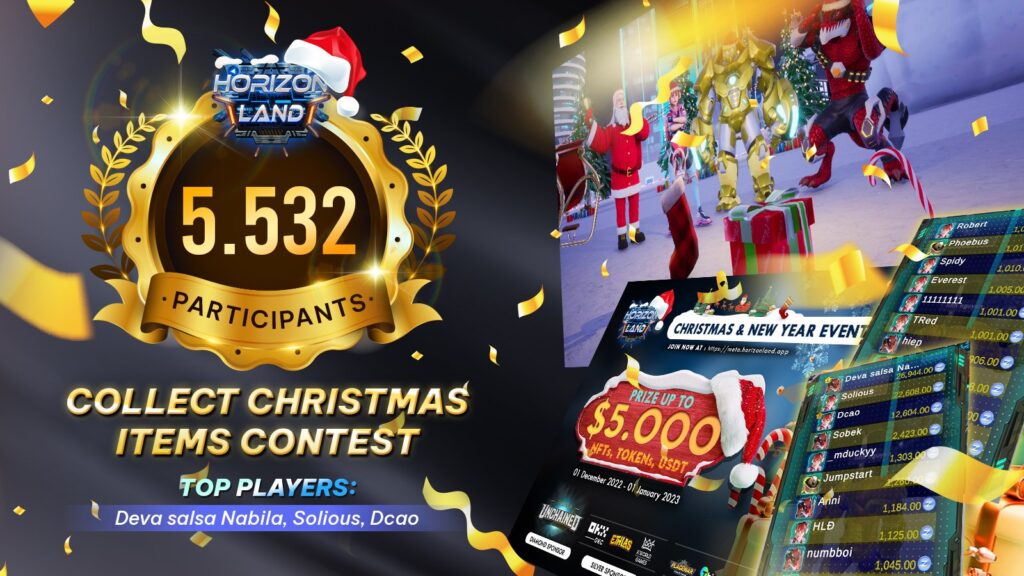 NFT CONTEST CO-ORGANIZED WITH VAN LANG UNIVERSITY
More than 400 ARTWORKS and it attracted over 1.012 PARTICIPANTS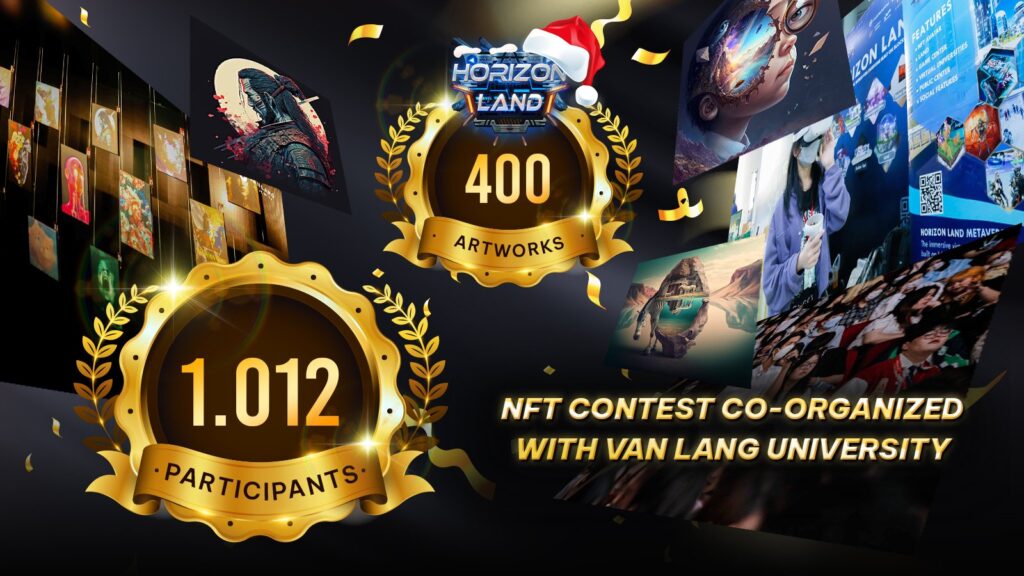 CHRISTMAS MINIGAME SERIES
Up to 5 GIVEAWAYS with 3.000 PARTICIPANTS in Horizon Land Giveaway Series with Strategic Partners.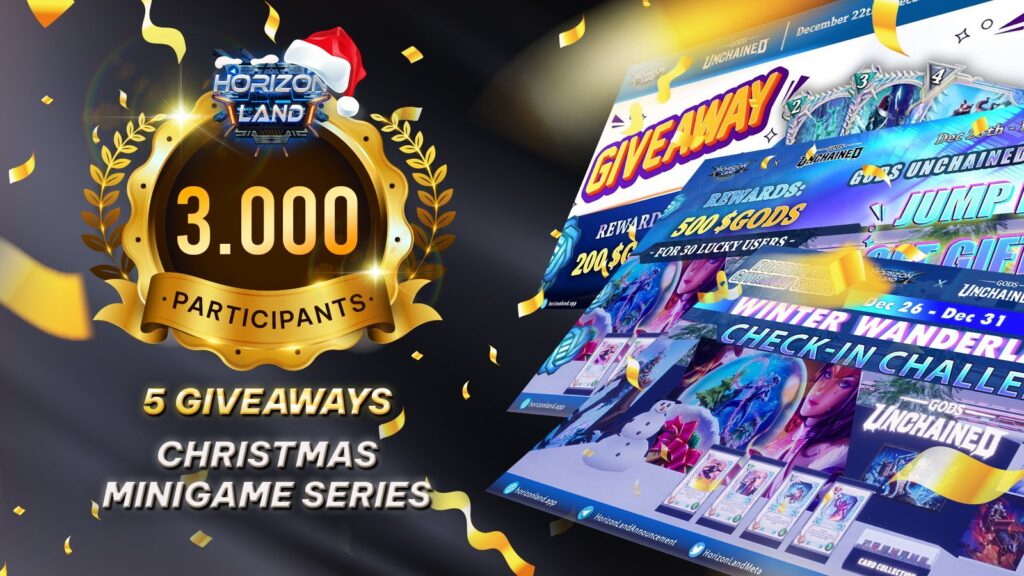 BOOTH EXPERIENCING VR GLASSESS AT TECHCAMP EVENT
Over than 1.200 STUDENTS join in and experience our VR glassess.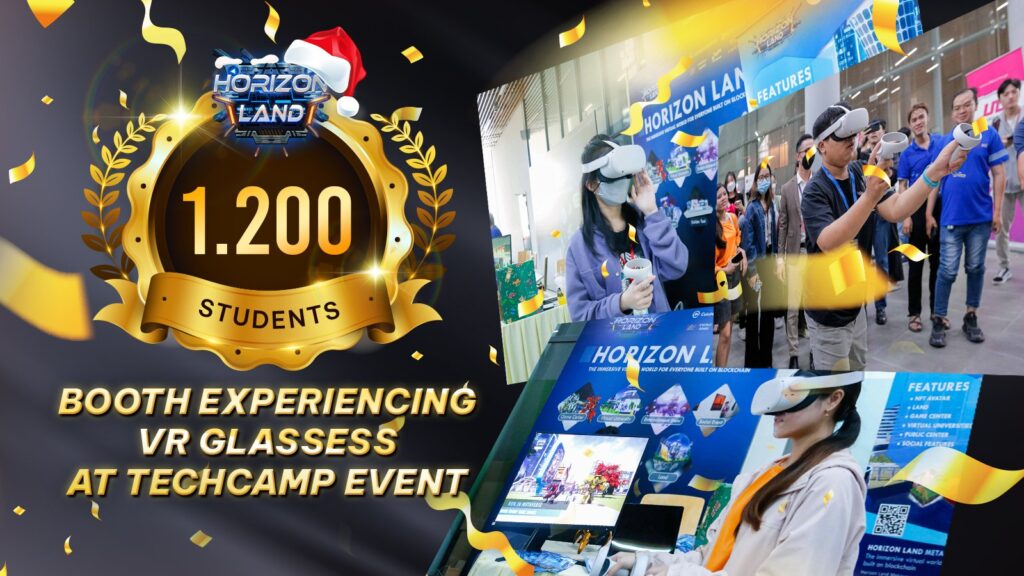 WORKSHOP "TECHCAMP GROW & GET FOR GEN Z"
More than 2.000 PARTICIPANTS joined the finale of #tournament AOV, Tech-ed workshop, music performances, and booth exhibition. The workshop was co-organized with BNB CHAIN, GAFIN, HORIZON LAND.
 Aim to give students a knowledge & learning environment perspective about Blockchain, Tech and the opportunity to connect with Global Game and Technology Businesses. Horizon is so excited and appreciates with vibrant space and attention experiences from thousands of students. We are committed to contribute to the growth of web3 ecosystem; bringing web3, gaming 2.0 to mass adoption.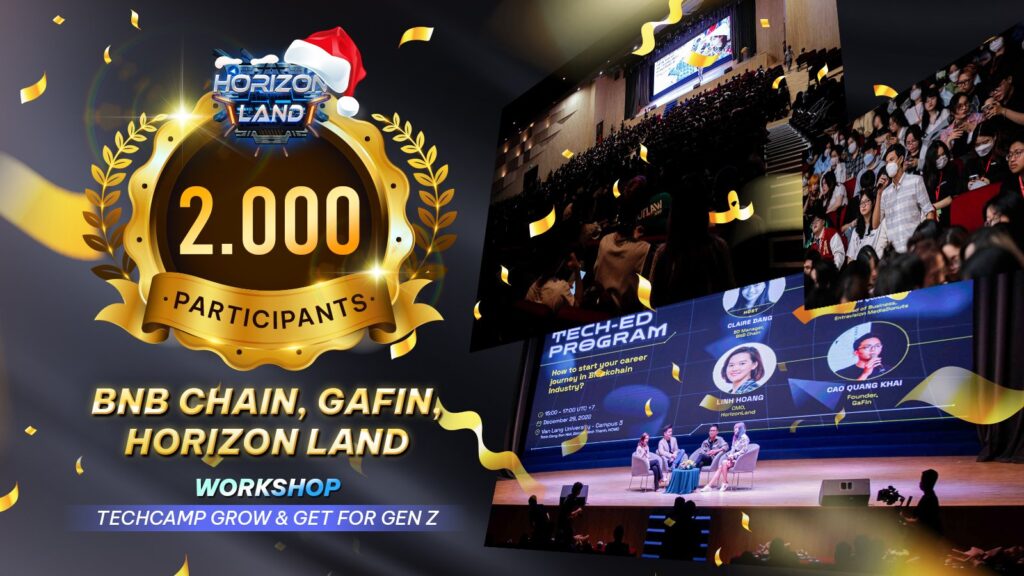 Our strategy is to develop ways to connect physical and digital experiences. Metaverse in our definition is not a virtual space, what users do in the real world will reflect in the digital world and vice versa. Through events from Horizon have contributed to helping part of our direction to grow and succeed.
Once again, Horizon Land would like to thank the players and partners who have followed and supported us in 2022 and hope that 2023 will be the next milestone in Horizon Land Metaverse's development.
===================
Follow Horizon Land: Website | Telegram | Twitter | Facebook | Youtube | Discord
Let's expand the Horizon together: CONTACT US