Look at all your street and Horizon's virtual street, snow is covering the ground while light twinkles so many houses, and Christmas is coming. One of the best vacations of the year, Horizon honor launch of the Christmas & New Year Event took place almost this December.
Christmas & New Year Event Introduction
This December will be the most breath-taking season for all users' Horizon Land because of the biggest Christmas & New Year Event awarding thousands of free NFTs, Tokens, $$$, Airdropping, and Giveaways with by total $ 5.000 sponsored.
Horizon so appreciate announcing grand Sponsors for Christmas & New Year Event:
💵Diamon Sponsor: Gods Unchained with Tokens sponsored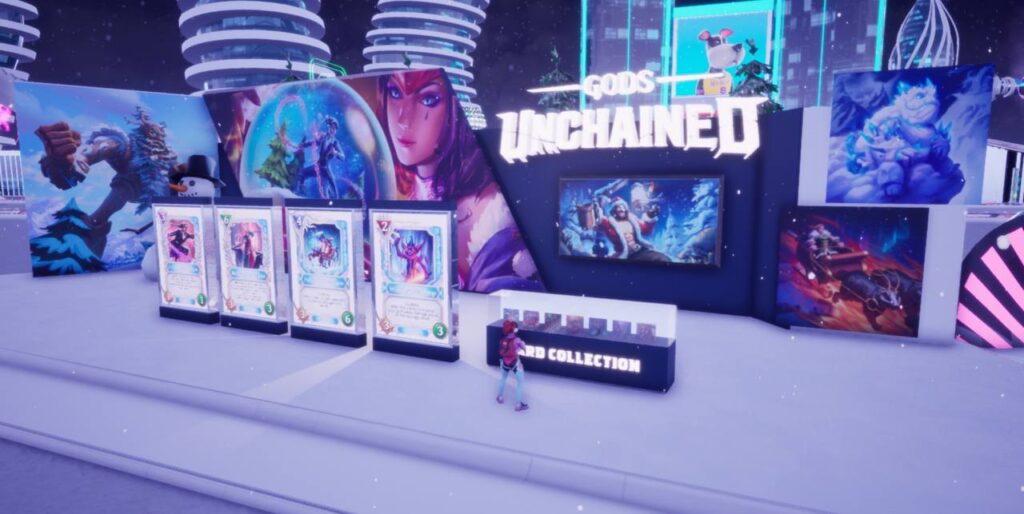 Gods Unchained gives users complete ownership over their in-game items. Collect rare cards, build your deck and sell cards to other players. To rise through the ranks, user can tactically outsmart their opponent at every turn by Reshaping a genre, Free to Play, & Not pay to win features
We are in building process of the unique Gods Unchained space within Horizon Land Metaverse, there will be a place for organizing event corporation between Horizon x God Unchained
💵 Silver Sponsors: Ethlas, XWG, and OKX with Komo NFTs, XGEMs, NFTs OKX and Andal Stardom NFTs
NFT Komos by Ethlas is the most jam-packed utility NFT that will front the genesis series of playable NFTs within the Ethlas Metaverse. 
Winners who own NFT OKX can join the OKX NFT Football Cup by holding, minting, or staking to share the OKX Winner Prize Pool until Nov 22 is $ 3,509,620 & increasing (+10 USDT per NFT minted)
Stardom NFTs are an essential asset for participating in SYNC activities and will act as one of the main determinants of how many rewards a player can earn per day. There are currently 3 different types of Stardom NFT assets: Stardom Character Cards, Stardom Equipment Cards, Stardom Equipment Cards
💵 Bronze Sponsors: Galaxy Arena, Thinkin, PlaceWar, VLU, and HeroArena
💵 Media Partner: Gafin
Collect Christmas items Contest | Prize Up To $5.000
▪️ Rule: Users need collect items as much as they can at Horizon Land
▪️ Time: From 01st December 2022 To 01st January 2023
▪️ Top 50 who collect the highest number of items until the end will win prizes
Contest Prizes:
🏆1st place: $200 + 1 NFT XWG
🥇2nd Place: $100 + 1 NFT XWG
🥈3rd Place: $50 + 1 NFT XWG
🥉4th – 20th Place: $10 + 1 NFT XWG/per winner
️🏅21st – 51st Place: 1 NFT XWG/winner
For an introduction, please watch the video: https://t.me/HorizonLandAnnouncement/706
Airdrop 1.000 exclusive NFTs Horizon Land
Any users who collect enough 1.000 Christmas items in Horizon Land can swap to 1 FREE NFT Horizon Land randomly. 100 items will appear and update per 1 hour and 1.000 items can swap to receive 1 FREE NFT only 1 time
COLLECT NOW AT: https://meta.horizonland.app/
NFT Horizon Land is the collection of 1.000 limited NFTs Galaxy Hero which can be used as VR Avatar in Horizon Land Metaverse and on Facebook. The collection features 5 Horizon Land guardians: Chris, Iron Golem, Scientist, Treasuer Hunter and Alient Hunter; owning them means that you will be an owner of the first Cyberses – the guardians of the gate leading to Ream of Horizon Land Light.
The avatar holders can keep them as proof of ownership of the Horizon guardians and receive exclusive access to metaverse experiences: multiple game titles, virtual classes, social events,… IP licensing opportunities and more. You can use them as persistent power-ups, racers, or fighters…that help you fight as strong as a Hero and upgrade your income.
Main types of NFT Horizon Land
▪️ NFT Chris – The City Hunter: One of the strongest Heroes in Horizon Land, Chris, a fire lady born from Underworld Factor, and fights for the Street Sweeper army. With half-human blood, she owns extremist power, has no gender, and lives incognito under the combatant Supporter identity.
▪️ NFT Iron Golem – Horizon Guardian: Golem was born from The Divine Factor and belongs to Cyperse Race. With Iron Blood, he owns extremist power and is a Tanker's Cyperse army.
▪️ NFT Alien Hunter – The Rage of the Namib: Alien Hunter's Desert Storm Division is one of the Liberal Alliance's critical defenses against the Empire's northern expansion. He was born from The Holy Eternal Empire Factor and belongs to Reptile race.
▪️ NFT Treasure Hunter – Ambitious Smart Cat: Treasure Hunter is an ebony cat with a passion for wealth who spends most of his life searching for lost treasures across Horizon, he was born from Underworld Factor and belongs to Beast Race – The Darkest Side of planet Horizon.
▪️ NFT Mad Scientist – Doctor of Darkness: own the Chemical power, was born from The Holy Eternal Empire, and belongs to Aqua Race – One of the Water Race is intent on dominating the entire galaxy. He lives incognito as a Supporter Apocalypse Knight army and silently carries out his treasonous goal.
Giveaway & Minigame Series
Horizon and Sponsors will organize the Giveaways series to give huge thanks to users who are following us over time.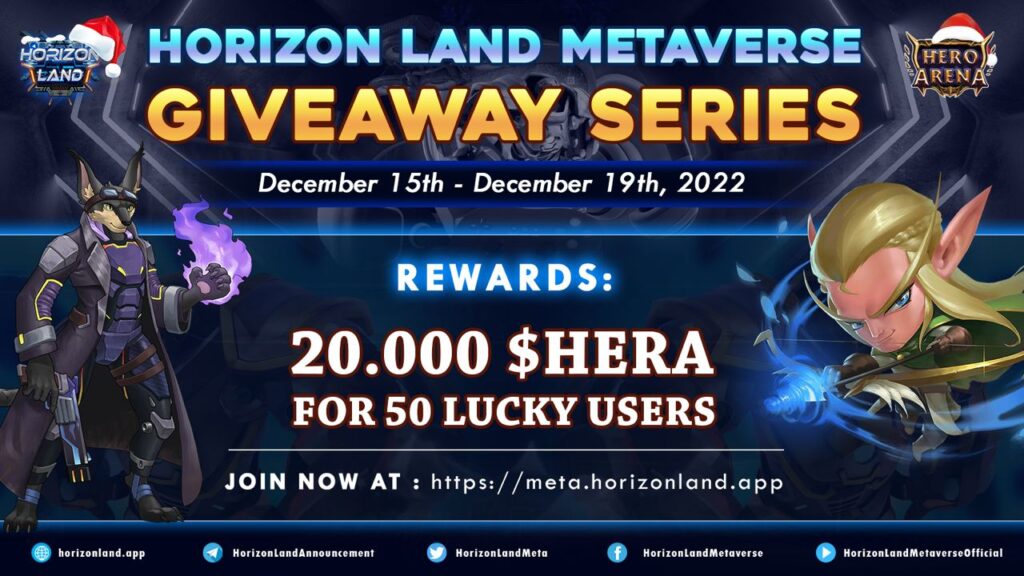 1. HORIZON LAND x HERO ARENA GIVEAWAY SERIES
💵Rewards: 20.000 $Hera for 50 lucky users
⏰Time: Dec 15th – Dec 19th, 2022
🎯RULES: Done all task here: https://gleam.io/competitions/R6pvH–hero-arena-x-horizon-land-metaverse-giveaway
Details: https://blog.horizonland.app/minigame/giveaway-series-horizon-land-partnerships/
2. HORIZON LAND GIVEAWAY SERIES x XWG x Ethlas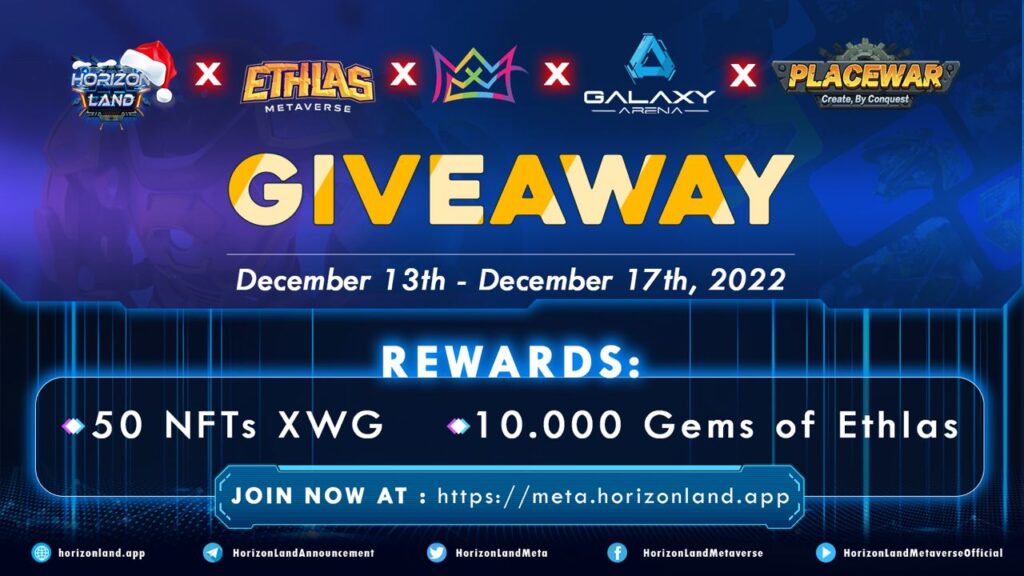 💵Rewards:
50 NFTs XWG
10.000 Ethlas Gems
50 USDT
⏰Time: Dec 13th – Dec 17th, 2022
🎯RULES:
1️⃣ Done all tasks here: https://gleam.io/pns1J/-giveaway-horizon-land-partnerships
2️⃣Join https://meta.horizonland.app/ and collect 100 ITEMS for bonus rewards
Details: https://blog.horizonland.app/minigame/giveaway-series-horizon-land-partnerships/
Follow Horizon Telegram Channel to share rewards together: https://t.me/HorizonLandAnnouncement
Time & Conditions

Contest & Event time: From 01st December 2022 To 01st January 2023 (1 month)
One user can swap to receive free NFT Horizon Land one time only
In Horizon Land, items collected will update 1 time per hour and distribution per hour (100 items will be distributed everywhere in Horizon Land per hour)
Top 50 users leading on Leader Board till the end day will be on winner list and there will be no accepted cheating.
Take part in: https://meta.horizonland.app/
===================
Horizon Land Media: Website | Telegram | Twitter | Facebook | Youtube | Discord
Contact Us: contact@horizonland.app